Neighbor, Rachel Levitsky, Perfect-bound. 112 pp, 6 x 8 in., 2020, Ugly Duckling Press.Rachel Levitsky, Perfect-bound. 112 pp, 6 x 8 in., 2020, Ugly Duckling Press.
NEIGHBOR'S
MUTABLE, shifty narrator alternately reifies and attempts to refuse the constricting, separating, culture-load bearing wall between lovers and neighbors. As antagonisms and intimacies converge, Levitsky troubles the divisions within urban space, and between spatial and ethical frames: "I live on a street where / people turn (on) each other / into a theory."
This second edition, printed a decade after
Neighbor's
original publication, features an expanded version of the play, "Perfect California: A Family Affair."
About Neighbor
"In and outside the window of Rachel Levitsky's apartment lie sadness, amusement and conflicted regard for the weirdo constructs of faith and scum politics. Her poet energy is a sweet intellect with lazy compulsive lines dropping onto a free and wishful page, ok with semi-resolve amidst the minor clatter of daily lust."
— Thurston Moore
Nearly touching are the ethical realm of our obligation to others and the aesthetic world of our freedom from such obligations. Levitsky's
Neighbor
confronts this imaginary dividing line—in the process, creating a poetry that both provokes community and critiques our social habituations. This is my neighborhood."
—
Charles Bernstein
Neighbor
is a sweet saga of disconnection. A collectivity of loss. Rachel should be working for the city of New York. 'I've decided to use my obsession/with my neighbor as the context/for a discussion of the State.' That in itself is incredible."
—
Eileen Myles
Each poem has Rachel Levitsky's voice in it, but the voice is commanding, demanding you in a sexy, provocative way, urging you to travel with her into a plane that is sonic and wry and physical and unknown. And, you let her. Guide you into language." —
Vi Khi Nao
Meditating on and inhabiting a wide variety of disciplines and ideas—from architecture to religion, the state to the domicile—Levitsky draws many unexpected connections, sometimes to dizzying effect" —
Publishers Weekly
Available from SPD Books: Neighbor ︎︎︎
The Story of My Accident is Ours
The Story of My Accident is Ours, Rachel Levitsky, 112 pages, 6 × 8 inches, 2013, Futurepoem.
"Emotional life and cognitive knowledge are not mutually exclusive nor even entirely separate spheres of experience. And neither unfolds except under sway of multiple contradictions, such that grief and determination can coincide, and uncertainty and understanding be simultaneous. In her magnificent
The Story of My Accident
is Ours Rachel Levitsky undertakes a meditation on the status of knowledge under conditions over which we have almost no control but which exert intense emotional, as well as practical, pressure on our lives. The narrator of this saga is a preternaturally astute observer of the recurrent, but never habitual, ways of a world in which she strangely participates. Indeed, it is a world in which strange participation is the only viable means of survival. It is, then, a revolutionary's tale, and, like all such tales, one without end. May it rise forever."
—
Lynn Hejinian
"Rachel Levitsky's prose poems employ the elegant language of philosophical inquiry to probe a territory not unlike the domain of poetry.
The Story of My Accident is Ours
is a thrilling voyage of discovery into "the vast and nearly completely unmanageable spaces between us."
—
John Ashbery
"Rachel Levitsky's
The Story of My Accident Is Ours
is an impossible comedy, a radical tragedy, a warning: beware "the glimmering smiles on television." Sometimes I wondered if I was on another planet, an alternate universe with its "privasphere" and its unsettling "The Large" (which is, of course, "always growing ever larger"). But this is absolutely our world: here's our "spectacle of consumption," here's "the mall, and then the mall." Levitsky's project and her prose exert a palpable urgency. She has something important to show us." —
Danielle Dutton
"How tremulous and effervescent I felt while reading this book—and how it impacted! By writing around and around the social, political, and emotional issues that have upmost bearing in our lives, Rachel Levitsky gets to the marrow of the matter in every single sentence. It's a transforming experience. It's just downright trans, in every sense of the word. This is it, everyone: a real modern marvel." —
Lonely Christopher
Published by Futurepoem, The Story of My Accident Is Ours is temporarily out of print.
A
downloadable PDF
is available here
The Story of My Accident is Ours ︎︎︎
until late Fall when three dimensional books will be back on shelves, or it will be availble for order at Small Press Distribution.
Under the Sun, Rachel Levitsky, 96 pages, 6 × 8 inches, 2002, Futurepoem.
"Rachel Levitsky's savvy, slippery
Under the Sun
defies metaphor as a path to transparent meaning...an expansive, evolving book which dips in and out of logic, beauty, politics and selves."
— Arielle Greenberg, Rain Taxi Review of Books
"Mixing language and observations that are equal parts challenging, erotic, enigmatic, and playful,
Under the Sun
is a remarkable tumble through an emotional funhouse where scares, passions and mirth divert us from the ennui and disappointments of everyday life."
— Phil Hall, Gay City News
"Gender is a pathway to a transformation of type into type. Poetry because it is a complex occasion of forces realizes the emerging forms of the imagination—the social imagination of our private transformations."
— Dale Smith,
Jacket Magazine
"Rachel Levitsky brilliantly designs mysterious flying objects of language and of desire, as she succeeds in giving each word an intriguing span of life. Her poems are theater, teaser, solution, entretien de tension which keep meaning and its boundaries open for intimate manuvres of reading." — Nicole Brossard
"
Under the Sun
operates on the small stages of intimate conflict and longing, but casts light outside the ring: we see the shadows of the crowd, we smell the dirty water that slaps against the piers. It's a formulation and un-doing of the personal. Intimacy excavated yields characters, ironic and adrift, who quiver in the jackets of their names. We know them by contact, or contract, an occupation of looks and resistance. The poem enacts the force of situated desire.
Under the Sun
is brilliant wit wrenching poetics: a word stream taking its shirt off."
— Camille Roy
"I am struck by the intellectual verve of this poem, its complex sense of the architecture of the poem as it responds to diverse literary traditions. This long poem creates rooms of and room for playfulness, humour, political anger, and aesthetic pleasures. It isn't static; it moves; it reads itself and interrogates."
— Carla Harryman
Published by Futurepoem, Under the Sun is currently out of print. A downloadable PDF is available here: Under the Sun ︎︎︎
Against Travel / Anti-Voyage
Against Travel/Anti-Voyage, 2020 Pamenar Press, 36 pgs. 5.75x7.5" (14.8x19cm), perfect bound.
AVAILABLE NOW
from Pamenar Press,
Against Travel / Anti-Voyage
, with translations by Pascal Poyet—released by the multilingual multilocational Pamenar Press, a project of
Ghazal Mosedeq
.
On September 28! 2 pm eastern time, there is a release reading for
Against Travel/Anti-Voyage is
happening, please
register here
. Covid cut short the scheduled April 2020 book release party so please join us on September 28
.
Available
in it's
perfect-bound edition from Pamenar Press ︎︎︎
Or
in a
special hand-sewn edition by Taraneh Mosedeq ︎︎︎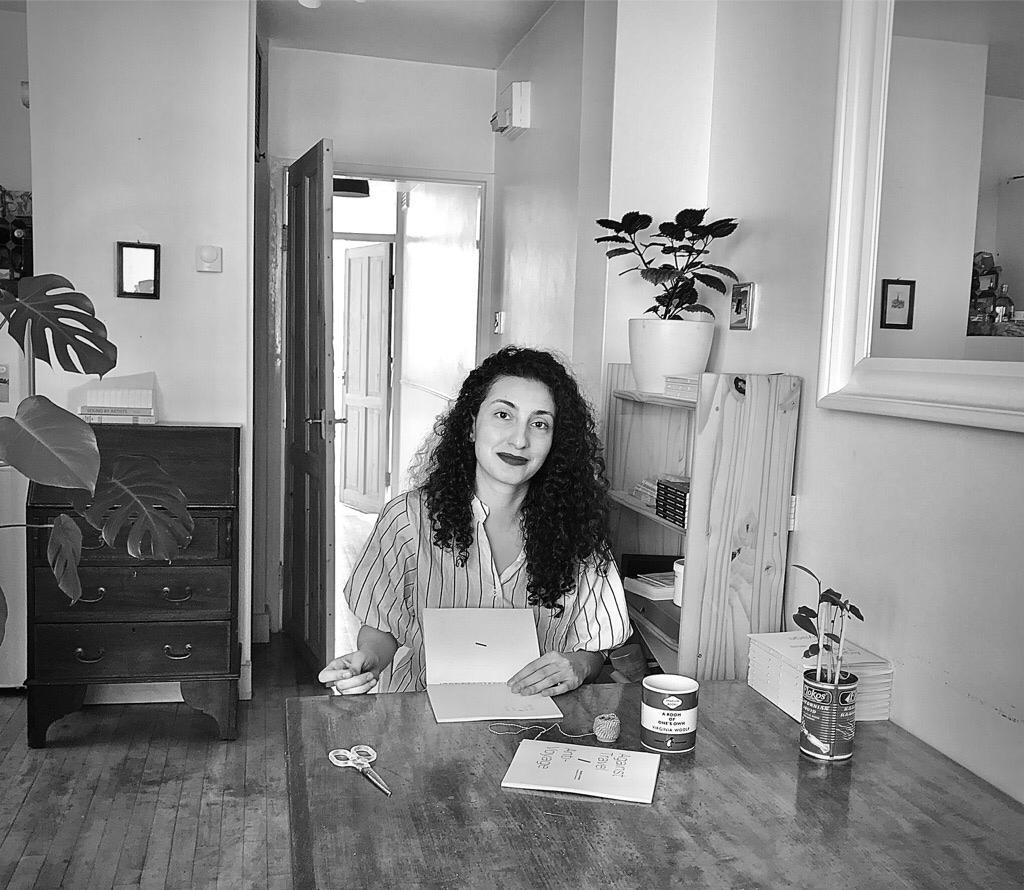 Hopefully, The Island, Rachel Levitsky in collaboration with the artist Susan Bee, 16pgs. 5.5 × 8.5 inches, 2016, Belladonna*.